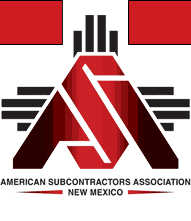 NAVIGATE


American Subcontractors Association of New Mexico's vision is to provide a unified voice that gives leadership, educates, politically guides and empowers its diverse, unique members to be the leading construcion organization of choice.  ASA-NM's Values; The ideals and beliefs of the American Subcontractors Associaiton of New Mexico are ethical and equitable business practices, quality construction, a safe and healthy work environment, integrity and membership diversity.

UPCOMING EVENTS
New Mexico Construction Safety Coalation: Thursday November 3, 2016; 7:30am to 10:00am.
Proposed Changes to the New Mexico One Call Law for the 2017 Legislative Session
Presented by Jason N. Montoya PE- Pipeline Safety Bureau Cheif
Member luncheon: Thursday November 10, 2016; 11:30 am to 1:15 pm.
Is FaceBook your only Marketing Strategy?  Find out why you need social media and marketing in your day to day operations to appeal to a different and broader subset of potential clients.
Presented by Marc Ramsey- Director of Communications for the American Subcontrators Association.

IMPORTANT NEWS UPDATES