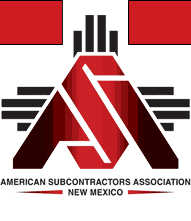 NAVIGATE


American Subcontractors Association of New Mexico's vision is to provide a unified voice that gives leadership, educates, politically guides and empowers its diverse, unique members to be the leading construcion organization of choice.  ASA-NM's Values; The ideals and beliefs of the American Subcontractors Associaiton of New Mexico are ethical and equitable business practices, quality construction, a safe and healthy work environment, integrity and membership diversity.

UPCOMING EVENTS
New Mexico Construction Safety Coalition meeting on the New Silica Rules Thursday September 1, 2016 7:30am- 10:00am at Yearout Companies Training Room.
Member Luncheon: Thursday September 8, 2016; 11:30am-1:15pm with guest speakers; Gary Tonjes and Dale Dekker on Albuquerque Economic Developement.
Details will come soon.
Save the date: October 14, 2016 Annual Golf Tournament at Sandia Golf Club.

IMPORTANT NEWS UPDATES