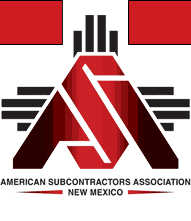 NAVIGATE


American Subcontractors Association of New Mexico's vision is to provide a unified voice that gives leadership, educates, politically guides and empowers its diverse, unique members to be the leading construcion organization of choice.  ASA-NM's Values; The ideals and beliefs of the American Subcontractors Associaiton of New Mexico are ethical and equitable business practices, quality construction, a safe and healthy work environment, integrity and membership diversity.

UPCOMING EVENTS
Member Luncheon: Thursday October 6, 2016; 11:30am-1:15pm.  CONSTRUCTION INSURANCE- Hear from our Expert Members on what is Affecting our Members;
HUB International Insurance Services

presenting on "Claims Reviews/ Claims Advocacy"

Brown & Brown Insurance of New Mexico

presenting on "Experience Rating (EMOD)

Menicucci Insurance Agency

presenting on "Builders Risk with the state of New Mexico"

MassMutual Southwest

presenting on "Key employee and insurance policy for business cas that they have on their books"

Acutiy, A Mutual Insurance Company

presenting on "Micro Topics for Contractors"

Burke Insurance Group

presenting on "Additional Insured"

New Mexico Contractors Comp Trust

presenting on "Workers Compensation Insurance"

USI Southwest, Inc.

presenting on "Cyber Liability"
Annual Golf Tournament is October 14, 2016 at Sandia Golf Club, 1:00 pm Shotgun start
Enjoy a friendly golf tournament, win prizes and make a contribution to the New Mexico Cancer Center Foundation all at the same time.  Over 130 players, space is limited.  Register and sponsor today.
Registration & Sponsorship form
NMCCT Donation Information flyer

IMPORTANT NEWS UPDATES